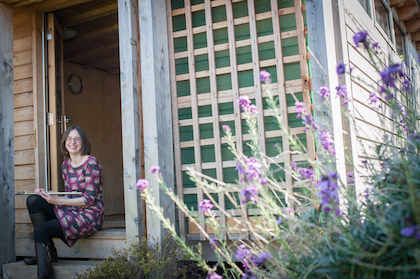 About Lessons
Where and when:
Lessons are offered from my home which is located in Cheltenham, near Pittville Park. However, I am not currently taking on any new pupils, and I have no waiting list for new pupils.
Rates and policies:
Rates are £34 for an hour and £17 for half an hour. Lessons must be paid for in advance in blocks of ten, but I do offer a trial lesson for new students at the above rate, with no commitment.
For most beginners it is best to start with half an hour lessons to build up stamina. More advanced students will benefit from an hour lesson to cover material in more depth. Please contact me for further information about paired lessons or block discounts.
For the full details of my lesson policies, including information on cancellations, see this pdf.
What is the best age to start learning an instrument?

Children as young as five with a good attention span can benefit from music lessons. For young children, whose hands may be too small for a full-sized instrument, the dood is an excellent starter instrument. This is a small light instrument that has a mouthpiece like a clarinet and fingering like a recorder, with a nice sound quality. Depending on their size, children from about eight can play a full size clarinet or flute. For children who are not big enough to play a full size saxophone, the alpha sax is a good alternative, and can be rented through UK Sax Hire.
For school-age children, there is evidence that learning music helps students in other areas, including academic achievement, athletic endeavours, and acquiring a life-long habit of learning.
I want to take woodwind lessons but don't have an instrument. Is there an alternative to purchasing one?
Rentals are often available at local shops if you do not want to commit to an instrument purchase. UK Sax Hire provide a good online instrument rental service. You may contact me for more information if you are interested in lessons with me and are looking for advice on renting or buying an instrument.
How much should I practice?
I recognise that adults are often busy and working, trying to squeeze music lessons in with many other time commitments. Optimally an adult music student would practice for a half hour a day. However, it is better to practice for 5 minutes each day than to skip many days and try to "cram in" a lot of practice.
For children, learning an instrument is part of a whole experience of learning and growing. Like adults, children today are often overscheduled. Parents should think carefully about making a solid commitment to their child's music lessons and practice time to help create an experience of success. I recognise that teaching music lessons to children is part of a larger process, and I regularly meet with parents of my students to help make their music lessons and practice time worthwhile. As a rough guideline I recommend 30 minutes per day for more casual students and up to one hour for more serious students.
How do I avoid injury?
It is important to look after yourself to avoid repetitive strain injury and similar problems. Read my article for more details.
Should I skip lessons if I haven't practiced?
No. Even if you haven't practiced between lessons, having a lesson can get you back on track and keep the momentum going. My role as teacher is to guide you in your musical endeavors, recognising that they are part of the larger picture of your life.
Where should I buy an instrument?
When purchasing an instrument to begin with it is sometimes a good idea to get a used instrument, especially if you are not 100% sure you are going to like playing it. Answering a local advert or purchasing an ex-rental instrument from a music store is the best way to do this. Ebay is not a good option for a first time instrument buyer as the instrument needs to be looked at and played before making a purchase. I am happy to advise and also look over an instrument before a decision is made on it. If you do decide to go ahead and purchase on Ebay be aware that there may be hidden costs involved with repairing an instrument and getting it to a playable state.
What brand of reed is best?
Reeds differ in price and also in quality- I recommend using Vandoren reeds. For a beginner the best one is a Vandoren blue box (normal) 1 1/2 strength. Some people find the 1 1/2 reed too resistant and prefer to try a rico reed which is on the softer side- I discourage people from doing this as the resistance is something which makes a difference in the sound you make, and getting used to the reed is just as important as getting used to where your fingers go and also how to breathe when you're learning.
Wetting the reed is very important to get the reed to vibrate throughout- a dry reed is harder to get a good tone out of and difficult to produce a sound at all if you are a beginner. It is also very important to wet the whole reed not just the top part.
Something else to consider is synthetic reeds - I use legere reeds, and as a guide having a synthetic reed which is a 1/4 strength more than what you usually use is the best option. These reeds are a good back up, I still prefer the feel and flexibility of the cane reeds but a good tone can be produced with a synthetic reed and after they have warmed up they are more consistent than a cane reed. However, due to this consistency they can be less versatile and this is why I prefer cane reeds. I use the legere reeds as a back up or when constantly having breaks between playing and needing to change instruments quickly. These reeds can be more expensive - about £10-15 but are more durable and will last years if not broken!
Should I get a strap?
Clarinet: For clarinet it is relatively uncommon to use a strap atleast in the professional world. However, if any pain is found when playing this can be a warning sign for repetitive strain injury. It is important that you feel comfortable when you play in order to get the best from your performance. If it feels easier and is pain free then why not use one? I personally use a strap all the time and find it to alleviate alot of right arm tension where the wieight is on the clarinet. It is a personal choice whether to use a strap or not, the arguments against it are only that you have to watch your posture so not to lean forward too much, however the weight of the clarinet is unlikely to be the course of this problem.
Saxophone: It is important to get a strap that fits! Ordering on line is ok but it is much better to try one out in your local music store to check that it fits ok. As a guide you should not need to bend forward to reach your sax mouthpiece- the instrument should reach you comfortably by adjusting the straps or harness. For tenor saxophone I use a B and H harness, these come in all shapes and sizes and need trying on before you buy. I have a women's fit harness which is the best I could find and I needed to add rucksack straps for padding in order to make this strap work for me! There is not much choice in the market for women with big instruments so be prepared to adapt your purchase as necessary- comfort is the key thing here not how it looks.